Dartmouth is a deepwater port at the mouth of River Dart that will always attract visitors. Historically it was one of the major English ports with Richard the Lion Heart launching the crusades from there. One of the creeks is named Warfleet creek after that event.
Early visitors included Chaucer, but less welcomed visits happened during the 100 years war when it was sacked twice. In later times its importance was such that the Dartmouth and Kingswear Castles were built on both side of the river to protect it in 1481.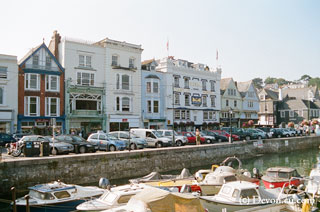 Since those days, the Royal Navy have been in Dartmouth and they still have a Training College there. During the Second World War, some of the D Day landings were practiced in the area. Apart from the Naval College, the majority of boats are now pleasure craft who make the most of sailing by some of the nicest coasts in the country and often make the journey down to Fowey in Cornwall which has a similar feel and heritage.
However this is only half the story, as Dartmouth has managed to combine being a modern port with keeping a lot of its culture and charm in tact. There are some narrow cobbled streets, the Cherub pub that was formerly a merchant's house dating from 1380 and Agincourt House, now a coffee shop used in The Onedin Line. Other historic buildings include the Butterwalk, built around 1640 which Charles II visited and is now part of Dartmouth museum.The inner harbour is known as Boatfloat, near which is Thomas Newcomen's Atmospheric Steam Engine one of the original steam engines.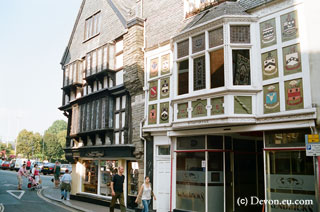 One unusual fact about Dartmouth is that it has a Railway station, but no railway! This is because the planned railway line was diverted to Kingswear after local opposition, but this happened after the station was built.