Exeter is the county town of Devon that is overlooked by an impressive Cathedral. It is a historic city on the banks of the River Exe that dates back to Celtic times. The Romans named it Isca Dumnoniorum or town of the Dumnonii tribe as the Western Celts were known and they established their most South Western base there. Some of the original Roman walls can still be seen today.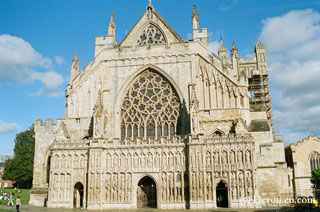 Over the centuries Exeter has had an amazing history and as the Saxons pushed the Celts into Cornwall, Exeter was twice captured by Viking Raids. With the arrival of the Normans, things became more settled after a short rebellion. The Rougemont castle was built, now in ruins and it is typical of Exeter's older buildings in that it is made from local red sandstone, hence its name. The fantastic Cathedral was also built from around that time, however most of it was built in the 14th Century. It is a beautiful building in an elevated position with some elaborate carving made possible by some of the local stones from Beer. In the middle is the Quire with excellent oak carving and there is also a Bishops throne from 1312.
In spite of some major damage during the World War II, there are still a number of historic buildings in the city. These include some Tudor timber buildings in the High Street, Exeter's Guildhall that has been used for council since 1330, St Nicholas Priory remains dates back to 1070. Rougemont House is a Georgian house which is museum of costume and lace.
Another fascinating attraction is a network of undergound Passages (accessed via the Boots Arcade in High Street) where you can see the 14th Century network to bring water into the city. Unfortunately these are closed temporarily, but should be open in the autumn
Exeter is a city with a number of sites, museums and other facilities that continually attracts the tourists.