Without doubt, Torquay is the most famous and popular resort in Devon and is the second most popular seaside resort in the UK (after Blackpool). It is situated on the South Devon coast in the sheltered Torbay area that also encompasses the other resorts of Paignton and Brixham.
Torquay has a long history with evidence of settlements from the paleolithic age in Kents Caverns which is one of the best prehistoric sites in Europe. The name Torquay is derrived from the quay of the village Torre named after the Torre Abbey, a powerful 12th century Abbey (dissolved during the dissolution of the monasteries and was later turned into a private house).
Torquay remained a small fishing village until the early Victorian times with the new popularity of tourism. Torbay's warm climate attracted people as a cure for some of their ailments and the town grew exponentially from a population of under 1,000 in 1800 to 11,000 in 1850. This growth in tourism was made possible by Brunel's Great Western Railways that connected the South West to London.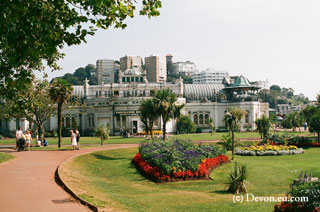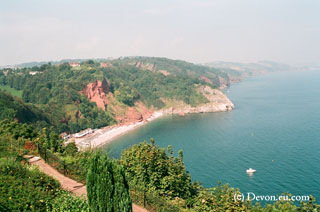 As you would expect, there are a number of fine buildings from that period including a copper domed Edwardian pavilion and these buildings are complemented by the palm trees to confirm Torbay's reputation as the English Riviera, almost reminiscent of some of the South of France resorts. One of the focal points of the town is the lively marina and harbour which usually host a number of international visitors' yachts. Torquay also has some large beaches for all of the family to enjoy in addition to a large selection of restaurants and a whole range of other thriving nightlife venues.
Torquay also has a number of other attractions including an Aquarium, a museum on Babbacombe Rd, Bygones a recreation of a Victorian Street, a Model Village and an Art Gallery.
Agatha Christe, the great novellist was born in Torquay and there is an annual weekly festival in September celebrating it.
Torquay has something for everyone and will always remain a popular destination.
Hotels in Torquay
Bed and Breakfasts in Torquay
Torquay Holiday Homes
Torquay Car Hire