Paignton is a historic village that dates back to Celtic times and the name is derived from Paega's town. It remained as a fishing village until the 19th Century when the new interest in tourism transformed it and the other Torbay towns who came in large numbers to enjoy the beaches, scenery and mild climate.
Paignton has a fine, long red sandy beach regarded as the best of the Torbay beaches which has made it a popular family holiday destination. There is a long pier that was built in 1879 that is the focal point of the beach.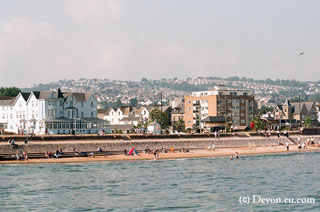 Notable buildings include the Oldway Mansion built by Isaac Singer (founder of Singer Sewing Machines) which is now used by the council, but there are some rooms that are open to public. Other major attractions include Paignton Zoo which is one of largest zoos in the country and the Dartmouth Steam Railway that every years takes thousands of smiling passengers on the beautiful scenic route to Kingswear.
Also nearby is Compton Castle which is maintained by the National Trust and was built in 1380. It was previously owned by descendants of Sir Humphrey Gilbert who colonised Newfoundland and was part of Sir Walter Raleigh's family.
Paignton is now an established resort that will continue to appeal to people looking for the traditional seaside resort.